D.I.Y Catering From INNOVO
Enjoy Innovo Kitchen for your next celebration. Perfect for family gatherings, showers, and holiday parties.
Complimentary delivery by Innovo Staff (based upon availability)
Small or larger trays available
Freshly prepared by our Chefs the day of your event
Clean safe service from people you know
D.I.Y
These trays are delivered free of charge in disposable trays ready for you to take it from there.
Fresh fruit display with yogurt dip… $95
Crisp vegetable crudités with Cajun ranch dip… $75
Charcuterie & cheeses with breads & flatbreads… $125
Assorted hummus with flatbreads, olive, & roasted peppers… $85
Smoked onion bacon dip with potato crisps… $75
Pimento cheese with soft pretzels… $85
House snack mix... $55
Veal ricotta meatballs with sugo… $110
Crispy confit wings, roasted jalapeño, garlic, & scallions/Buffalo Style… $135/$145
Chilled shrimp with classic cocktail & remoulade… $175
Mini crab cakes with Cajun remoulade… $220
Parmesan tater tots w/malt vinegar aioli… $65
Dorito tater tots w/siracha aioli… $85
Buffalo chicken meatballs with blue cheese fondue… $110
Flour tortilla
Soft corn tortilla
Crisp corn taco shells
Taco slaw
Pickled onions
jalapeños
Salsa verdi
Salsa roja
Chip & Salsa
Smashed avocado
Carne Asada
Shredded Baja Chicken
Pork Carnitas
Seasonal Vegetable Taco
Blacked Fish
Crispy Fish
Cilantro Lime Shrimp
Pork Al Pastor
Classic Ground Beef
Lobster avocado ($75)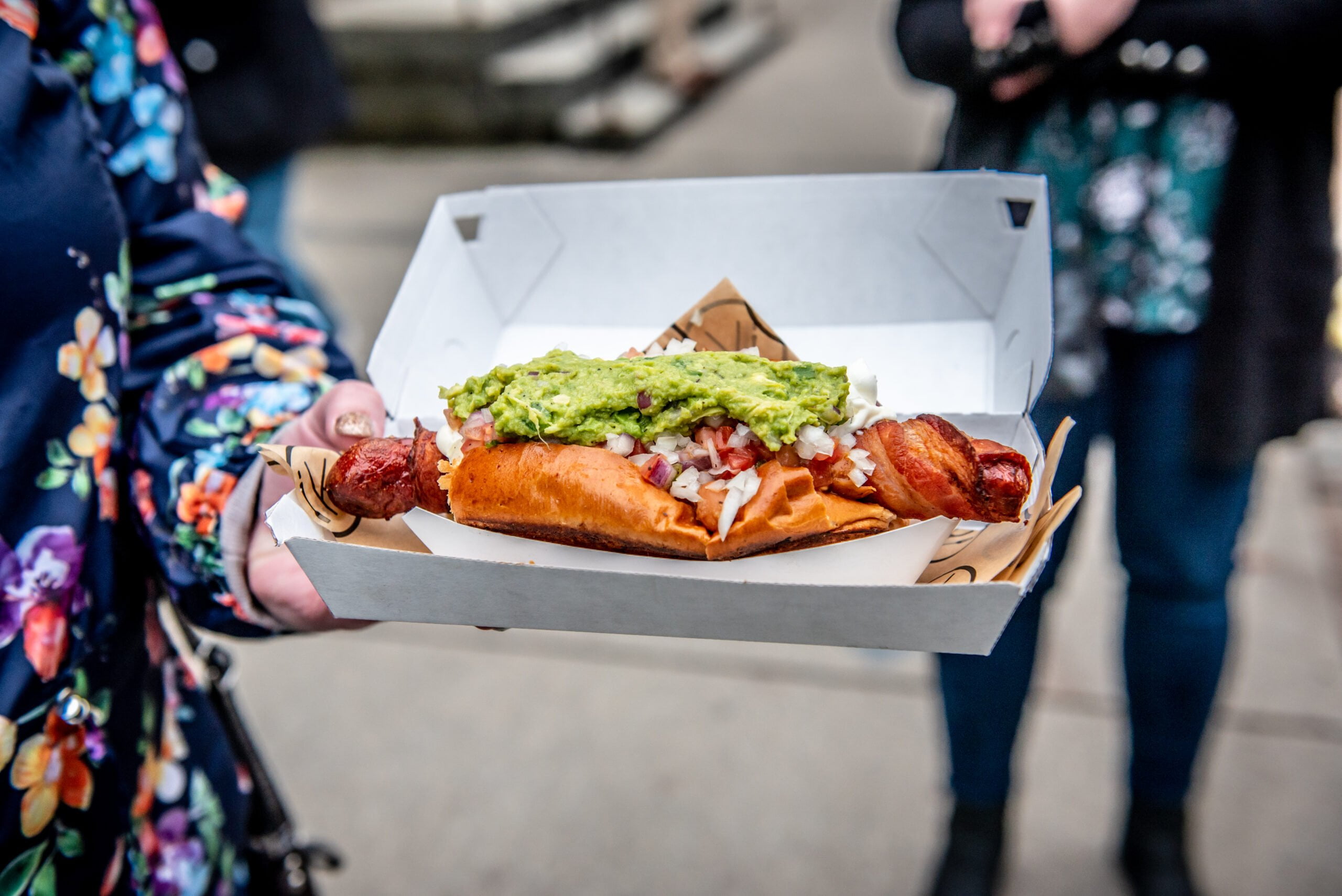 House all beef grilled franks
Brioche rolls
Pretzel rolls
Classic meat sauce
2 types mustard
Chopped onion
House pickle relish
Pulled pork
Ranch slaw
Roasted peppers
Sautéed onions
Scallions
Hot sauce
Crumbled bacon
Crispy onions
Crispy Buffalo chicken
Crumbled blue cheese
Chilled Beef Tenderloin Sliders… $195
House-made slider roll/sliced tenderloin/horseradish sauce/micro arugula/crisp onions
Mini Lobster Rolls… $225
Maine lobster salad/housemade rolls
Mini Cold Fried Chicken Sliders… $120
Cold fried chicken/cheese/honey tabasco/ranch slaw/pickled jalapeños
Turkey Sub Sliders… $95
Everything sub rolls/house roast turkey/smashed avocado/aioli/crisp lettuce/bacon/ripe tomato
Pit Smoked Ham Sliders… $95
Pretzel slider rolls/smokey pit ham/house bread & butter pickles/whole grain mustard/crisp lettuce
Focaccia Sliders… $110
House-made focaccia/genoa salami/coppa/mortadella/Asiago/pepper salad/arugula/EVOO
Roasted Chicken Salad Wraps… $95
Roasted chicken salad/flour wrap/red pepper jam/cheddar cheese/shredded lettuce
Caprese Sliders… $95
House-made focaccia/genoa salami/coppa/mortadella/Asiago/pepper salad/arugula/EVOO
Pulled Pork Slider Kit… $175
House-smoked pulled pork/brioche slider rolls/house-dill pickle chips/ranch slaw/NC BBQ sauce/house-made cajun potato chips
Grilled chicken breast $85

Chilli Lime Shrimp $95
Chilled Sliced Tenderlion $125

Grilled Salmon $120
Great Greens… $45
Artisanal greens/heirloom cherry tomatoes/cucumbers/ red onion/crumbled goat cheese/red wine vinaigrette
Ice Berg Round… $55
Chopped iceberg lettuce/red onion/cherry tomatoes/ranch dressing/bacon lardons
Caesar Salad… $55
crisp romaine/croutons/shaved asiago/anchovy-based Caesar dressing/white anchovies
Burrata Salad… $95
Fresh burrata/marinated tomatoes/roasted peppers/carrot hummus/arugula/mini garlic naan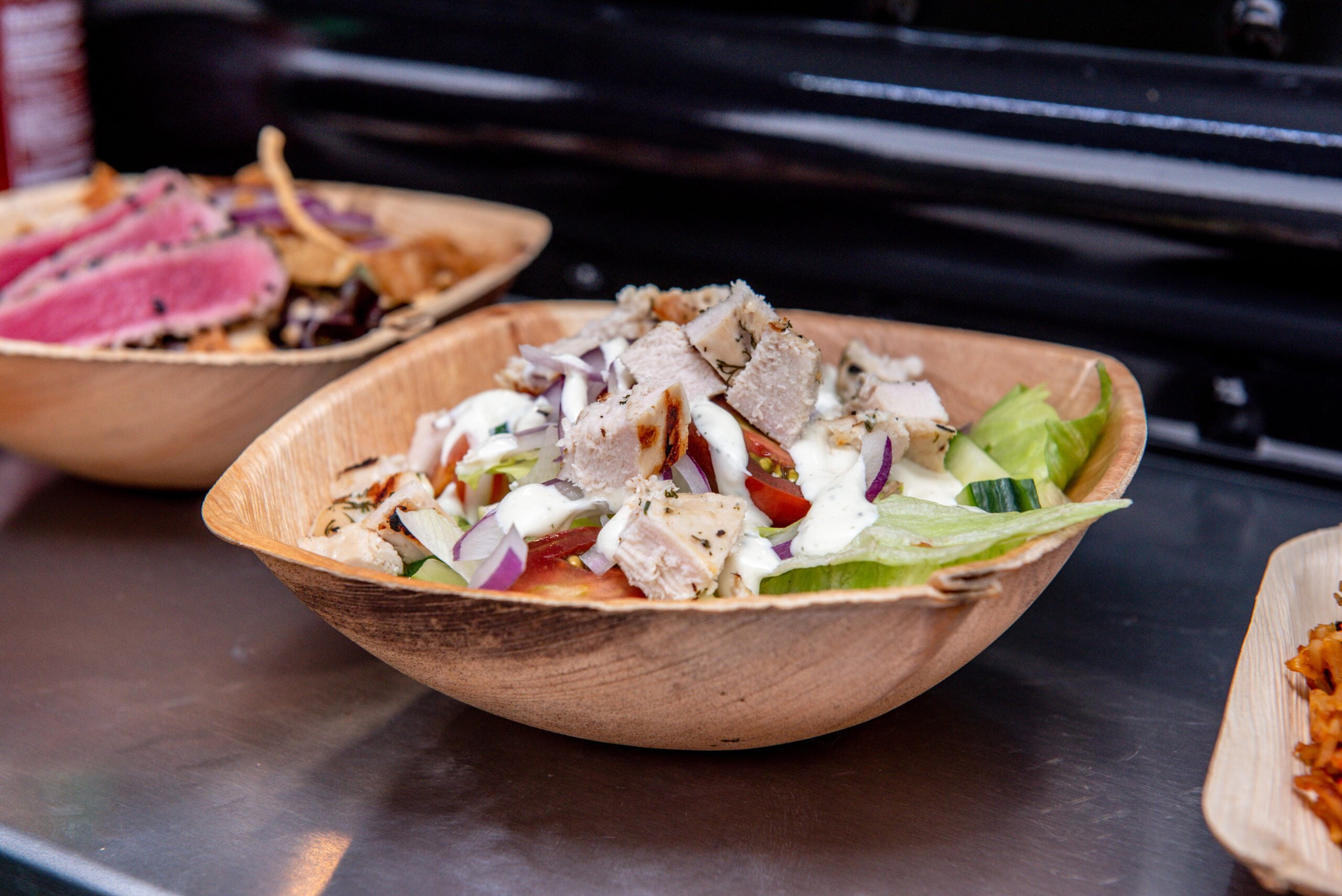 Entrees
Tray Feeds 15-20 guests
(includes house baked bread)
Classic meat lasagna… $95
Vegetable lasagna… $90
Classic macaroni & cheese… $75
Macaroni & cheese bolognese… $95
Old school chicken Francaise… $145
Served with house-made pasta and sautéed spinach
Sicilian baked ziti… $120
Sausage, meatballs, eggplant, fresh mozzarella, Sugo, Romano
Rigatoni bolognese… $110
Free range boneless whole chicken… $165
Lemon thyme roasted with chicken jus & roasted vegetables
Lobster macaroni & cheese… $225
Cajun chicken pasta… $120
Grilled chicken/andouille sausage/roasted peppers/spinach/Cajun cream
Birch beer braised short ribs… $240
Pommes puree… $75
Roasted vegetables… $75
Classic chicken parmesan… $145
Fresh mozzarella/house sugo/Grana Padano/house made pasta
Pan seared Faroe Island salmon… $185
Seasonal vegetables/roasted marble potatoes
Chicken Rosanna… $145
Grilled chicken breast/vodka tomato cream/ground sausage/parmesan fried potato tostones/arugula salad/marinated tomatoes